Garbage truck
control system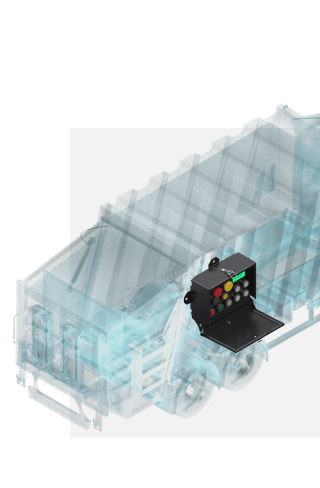 Electronic control solution for the working equipment of garbage trucks with rear loading. Garbage compaction modes are implemented both in automatic and manual modes.
The solution supports special garbage compaction modes and integration with the video monitoring system of hazardous areas. The control system includes on-board diagnostics with informative display.
The system is developed in accordance with European standards EN 1501-1-2007.
structure of the
garbage truck control system
the control system capabilities
Manual control of the garbage compaction mechanism;
Semi-automatic control of the garbage compaction mechanism;
Automatic control of the garbage compaction mechanism;
Rear side up/down control;
Ejection plate control;
Release mode;
Smoothing mode;
Emergency sound alarm;
Working area lighting in the working area;
Emergency shutdown of the garbage compaction mechanism;
Overload protection;
Overpressure protection;
Exceeding moment protection;
Load sensor and load indication support;
Engine speed control via CAN bus;
Integration with the video surveillance system to prevent dangerous situations;
Registration of all parameters of the machine and images from video cameras;
General specifications
| | |
| --- | --- |
| Number of indicator lights | 3 |
| Weight (control module) | 2.3 kg |
| CAN interfaces | 1 |
| CAN speed | 250 kbit/s |
Discrete input specifications
| | |
| --- | --- |
| Number of inputs | 4 |
| Logical "0" voltage range | 0-5.7 V |
| Logical "1" voltage range | 13.3-36 V |
| Maximum input voltage | 36 V |
Current input specifications
| | |
| --- | --- |
| Number of inputs | 4 |
| Measured current range | 0-25 mA |
| Accuracy | 0.25 mA |
Sensor power supply output specifications
| | |
| --- | --- |
| Number of outputs | 1 |
| Output voltage | 15 V |
| Maximum current | 200 mA |
Power outputs type А
| | |
| --- | --- |
| Number of outputs | 12 |
| Maximum continuous current | 1.5 A |
Power outputs type C specifications
| | |
| --- | --- |
| Number of outputs | 9 |
| Maximum continuous current | 2.5 A |
Power output (emergency stop) specifications
| | |
| --- | --- |
| Number of outputs | 1 |
| Maximum continuous current | 3 A |