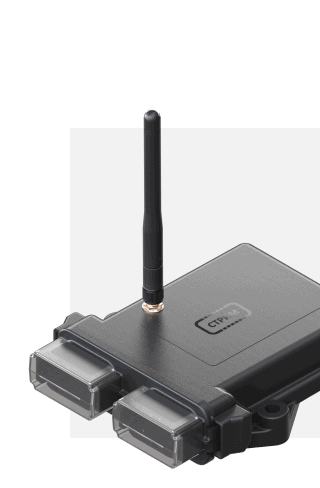 The MI-15.0.5 module is an OEM solution for tire pressure monitoring by STRIM. MI-15.0.5 can be integrated into the multiplex CAN-bus of a truck, trailer, dump truck, bus, tractor.
Supports PRESSURE PRO radio pressure sensors. Capable of reading data from 32 sensors simultaneously. Supports the J1939 protocol and allows the transmission to the vehicle display.
Built-in configuration allows to combine multiple MI-15.0.5 modules into the array for automatic connection of semi-trailers.
General specifications
| | |
| --- | --- |
| CAN channels | 2 (SAE J1939) |
| Bluetooth support | |
| Pressure sensors wireless channel | 433 MHz |
| PowerLine-modem | |
| Number of discrete inputs | 3 |
| Number of discrete outputs | 7 |
| Power supply voltage range | 8 – 32 V |
| Number of connected wireless sensors | up to 32 |
| Connected radio antenna type | 433 MHz (coaxial) |
| Body material | plastic |
| Weight | 260 g |
Module operating conditions
Climate category ("moderately cold")
GOST 15150-69
Protection degree
IP67 по ГОСТ 14254-2015
Connector design
(allows installation outside)
IP67
Operating temperature
-40…+60°С
Atmospheric reduced pressure
52 kPa (limit 12 kPa)
Dimensions
| | |
| --- | --- |
| Size (length / width / depth) | 164х119х46 mm |