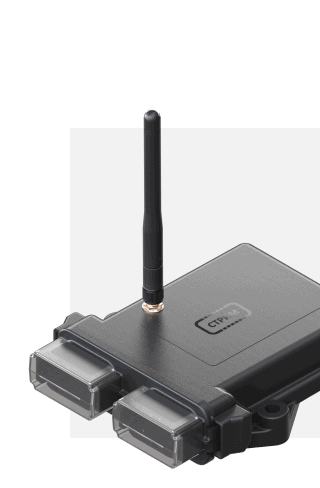 The MI-15.0.5 module is an OEM tire pressure monitoring solution. The module can be integrated into the multiplex CAN-bus of a truck, trailer, dump truck, bus or a tractor.
The module supports PRESSURE PRO™ wireless pressure sensors and capable of reading data from 32 sensors simultaneously. J1939 protocol is supported and allows the transmission to the vehicle display.
Built-in configuration allows to combine multiple MI-15.0.5 modules into the array for automatic connection of semi-trailers.
General specifications
| | |
| --- | --- |
| CAN channels | 2 (SAE J1939) |
| Bluetooth support | |
| Pressure sensors wireless channel | 433 MHz |
| PowerLine-modem | |
| Number of discrete inputs | 3 |
| Number of discrete outputs | 7 |
| Power supply voltage range | 8 – 32 V |
| Number of connected wireless sensors | up to 32 |
| Connected radio antenna type | 433 MHz (coaxial) |
| Body material | plastic |
| Weight | 260 g |
Module operating conditions
Climate category ("moderately cold")
GOST 15150-69
Protection degree
IP67 по ГОСТ 14254-2015
Connector design
(allows installation outside)
IP67
Operating temperature
-40…+60°С
Atmospheric reduced pressure
52 kPa (limit 12 kPa)
Dimensions
| | |
| --- | --- |
| Size (length / width / depth) | 164х119х46 mm |