Rotational speed sensors DHV-01, DHV-01.4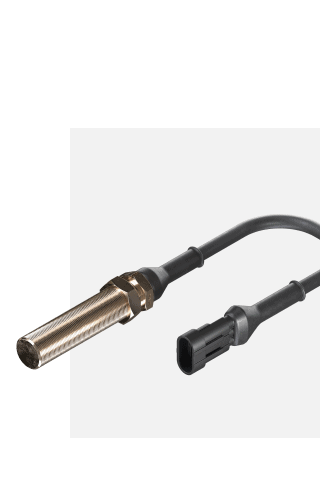 Rotational speed sensors are designed to determine the rotational frequencies of engines, automatic transmissions, transfer cases, electric motors, wheels of cars. The principle of operation is based on the Hall effect when the sensor's sensor element interacts with a ferromagnetic gear.
The speed sensors are implemented with a current output and a voltage output.
The sensors have stable characteristics over the entire operating temperature range, and high reliability, which allows to determine the direction of rotation and diagnose the state of the connection circuits. At the request, sensors are made in different housing, with different threads, a connector type, and output signal characteristics.
General specifications
| | |
| --- | --- |
| Operating voltage range | 10 – 30 V |
| Rated supply voltage | 24 V |
| Consumption current, no more | 9 mA |
| Operating clearance range | 1 – 3 mm |
| Measured frequency range | 0 – 15 kHz |
| Minimum gear tooth modulus | 3 |
| Voltage range for the output signal, at nominal resistance load logical "0" | ≤ 1 V |
| Voltage range for the output signal, at nominal resistance load logic "1" | 1 – Vop V |
| Rated electrical resistance of the load | 2 kOhm |